Harrisburg Office of the Receiver: The least expensive way to deal with the City's cash flow problems
As originally posted on Roxbury News: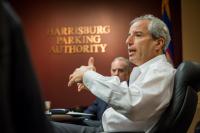 In a unanimous vote, Harrisburg City Council passed a resolution authorizing a $4 million inter-fund and revenue anticipation borrowing from Water Fund, Sewer Fund, and/or Sanitation Fund to the City of Harrisburg's General Fund. The transfer is defined as "temporary" and intended as a safety measure to ensure payroll and medical benefits will be paid during this first quarter of 2013. In anticipation of tax revenues in February and March, the City will pay the money back in two payments, $2 million by March 20th and $2 million by June 20. An interest rate of 0.5% is part of the deal.
In a presentation to City Council, Steven Goldfield, financial advisor to the Office of the Receiver, remarked on the uniqueness of the non-traditional borrowing plan, "The resolution before you is different from any other resolution I've seen in 25 years of municipal finance." Goldfield emphasized the transparency of the plan stating that not only did the Office of the Receiver seek the support of the City's Administration and Council but also has notified the Commonwealth Court and the "Suburban Municipalities" who pay fees to the Sewer Fund.
In March of 2012, former Receiver David Unkovic ordered a stop of such transfers from the City's utility funds to the General Fund, a practice occurring for decades to plug holes in Harrisburg's budget. However, Goldfield explained the difference here is the openness and accountability of the set up as well as the agreement to pay the money back. In the past, the utility funds have never been replenished by the City.
Goldfield disclosed other options were limited and expensive. Because of the City's fiscal and management issues, it is challenged to borrow money in traditional ways. "Banks are not interested in loaning money to the City," Goldfield said.
The $4 million is primarily intended for pay payroll and make insurance premiums as well as not increase payables greater than they currently are. City Council articulated a concern that the money would only be used by the Administration for its intended purposes. Ideally, Goldfield told Councilors, "You don't have to take any, and you may not take much at all."
The City's Financial Director Bob Kroboth came forward to clarify the "critical expenses" the Administration faces.
Videos:
photo by Natalie Cake
Read: Resolution 3-2013